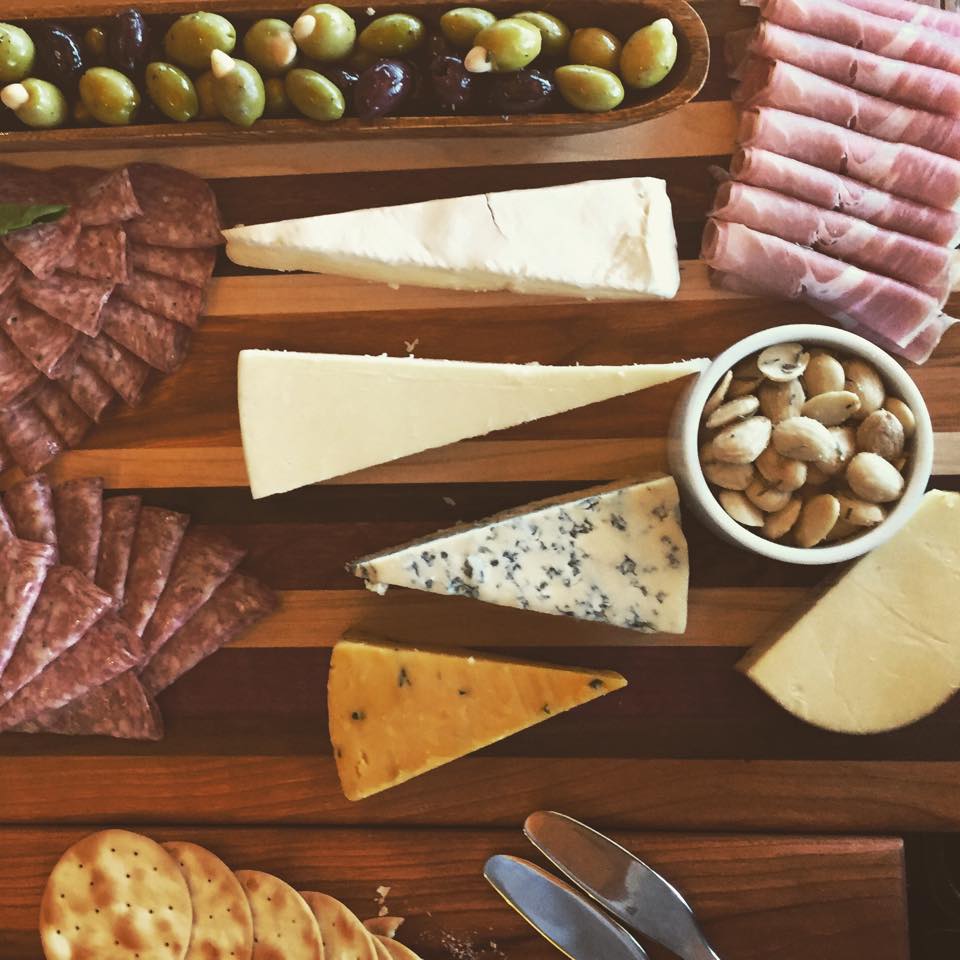 The other day I got the oportunity to work with N2 Publishing and the community of the Southwest Hills in Eugene for an event out at Sweet Cheeks Winery. They needed Antipasto and Artisan Cheeses to pair with their delicious Sweet Cheeks wine. Enter Sheild Catering. One of my favorite things about events is the shopping. But going and picking out a variety of Artisan Cheeses... that is the dream. Come take a journey of cheese with me. 
1) Cotswold Double Gloucester - this semi-hard cheese is speckled with onions and chives amidst giving an accent to the earthy flavor of the cheese.  "Double" in the name refers to the fact that it has been aged for longer than a single gloucester (ie cheese made IN Gloucester, Engalnd). This gives it a very complex flavor, as the chive and onions are so fresh and the cheese is aged. One of the participants of this event called it "The Steak of Cheese" because, yes, it is that good.
2) Chevere rolled in fresh herbs- so much fresh going on here. The cheese. The herbs. Fresh. The thing I love about goat cheese that has a wrap of herbs or pepper is that it gives the palate more to focus on than the "goat" part of the cheese. It brings out the creamy, the nutty, the earthy. Personally not a fan of overpowering "goat" flavor. So I consider this a win.
3)Asiago- Fun fact. According to Wikepidia (oh yes, i went there) Asiago Cheese: "has a protected designation of origin... the only "original" Asiago is produced in the alpine area of the town of Asiago, province of Vicenza, in the Veneto region [of Italy]."  We are all familiar with Aisago from our love of artisan pizza and lasagne... its that one that reminds us of parmasagn but isn't
 I find that I actually like it better than parm often as it has a more full flavor that parm does. A very little goes a long way.
4)Cave Aged Bleu Cheese- In dressing, on crackers, with apricots, for dessert... no cheese board is complete without this classic. The reason for cave-aging is to maintain a constant atmosphere for a cheese to ripen. Apparently caves have the perfect temperature and hummidity for this process. Pretty neat huh? 
5) Double Cream Gouda- this traditional style cheese originates in the land of my ancestors, so I am rather inclined towards it. Although in this particular style's defence I will add that I do believe that "double cream" or "roomkaas" is the best kind of gouda. Basically as I understand the process they take a whole milk gouda then add MORE cream to it. My ancestors are geniouses. 
6) Dutch Aged Gouda- Another shout out to the Dutch here. This is a more widely know gouda to many of us here in America. It is smokey and delicious and, in addition to making a great peice on your cheese board, leftovers make killer stuffed mushrooms!
7) Brie- And finally my french favorite. This cheese is the love child of bacteria and whipping cream. Mostly brie should be eaten: with marmalade, with jelly, with fruit, with crackers, with bread, baked, not baked, with nuts, with wine, with caramel, with salami, with prociutto, with any charcurerie, with olives, in sauce, but mostly... with love. There is a reason this is often offered as dessert in France. 
Pair all these up with some Italian dry salami, marcona almonds, house pickeled veggies, prociutto, crackers, grapes and lemon herb marinated olives and you have one decadent antipasto pairing platter! Now all you need is the wine...
(PS if you like this then like us on Facebook at https://www.facebook.com/sheildcatering" target="_blank">https://www.facebook.com/sheildcatering!)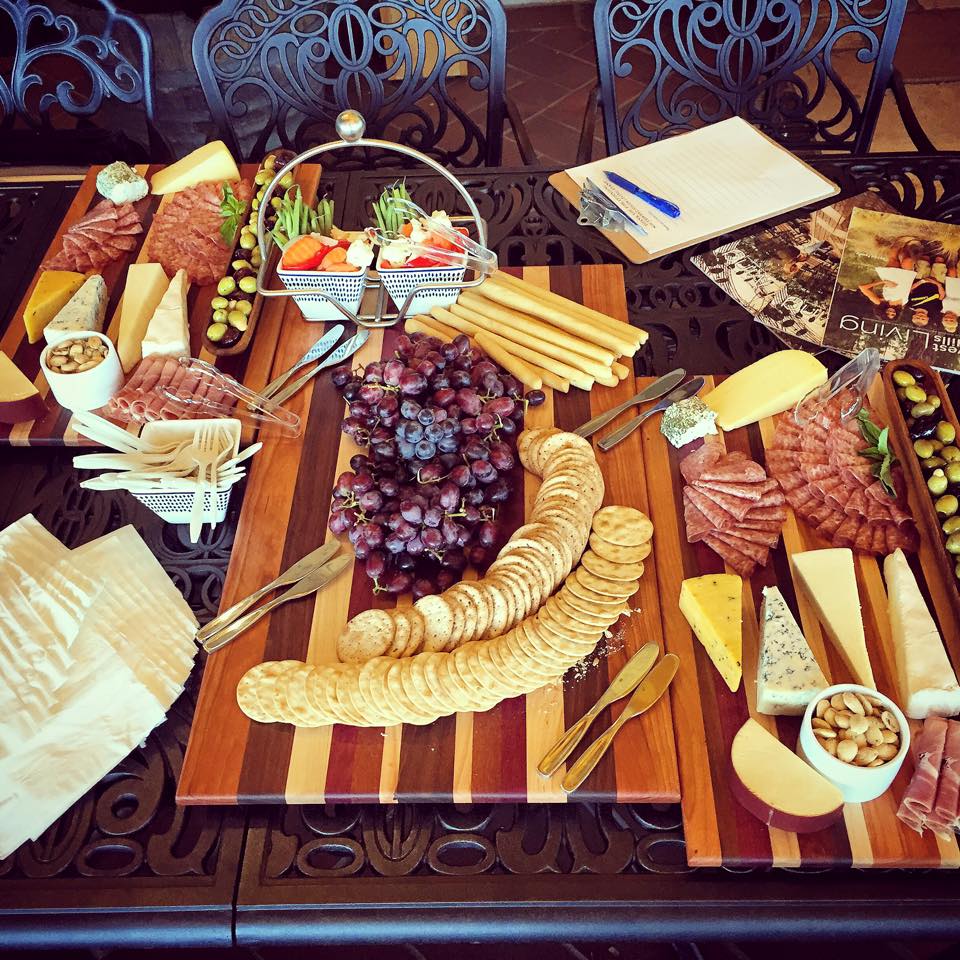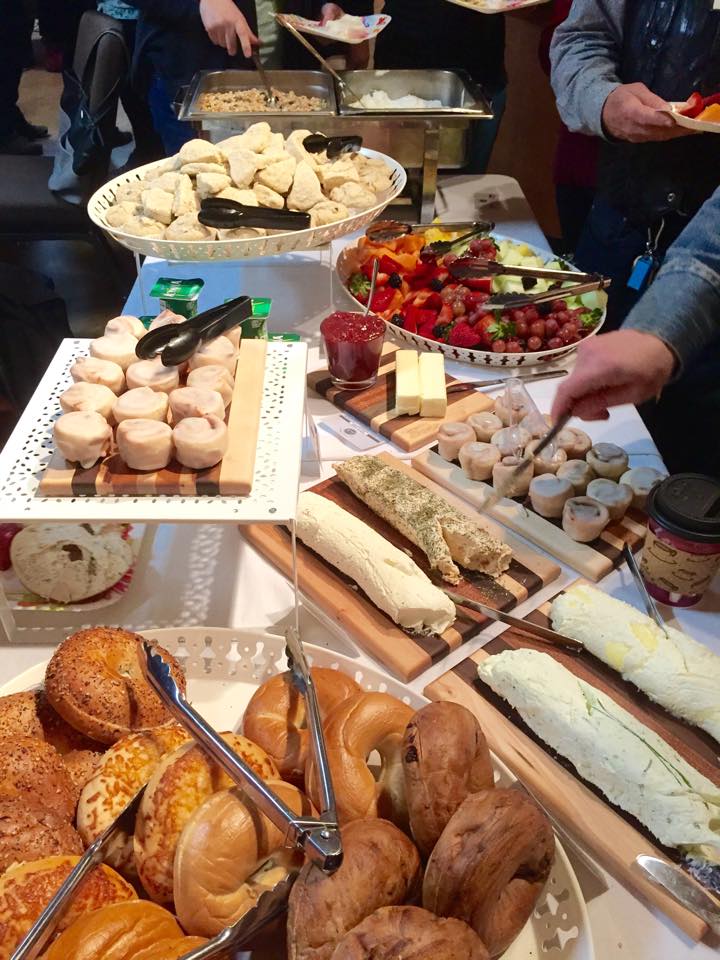 Yesterday I got home from work from a 11 hr day. It went something like this: started work at 8:30 catering a vegan, gluten free business lunch for 40, ate my personal lunch (ok I got an hour for that during which I made a shopping list for the next three days ... at work), followed by braving the chaos of Costco (who knew that place was so busy on a thursday at 2PM???) and then cooking/baking for brunch the next day until 6:15PM, clean the kitchen, and finally roll up in front of my home sweet home at 7PM. I got home to the glowing face of my kiddo shouting "HELLO MOMMA" as I climb the stairs (smile). Only to take a break for 1 hr to spend time with said kiddo before bed and eat dinner and then hit the planning of brunch the next day logistics for another hour or so. 
Catering is a rough gig. When you have work, it is intense. ALSO It is beautiful to see so many chaotic ideas, dreams and hopes placed up on an event and watch them fall into place within a matter of hours. A lot of pressure, and the bigger the event the more eyes are on you. But it is worth every minute of it every time. It feels like a dance. Finding that perfect ingredient, pulling out a beautiful tray of gluten free scones that taste like heaven, or finding the perfect rhythm and angle to make the grill marks on my chicken breasts perfect. Sometimes the level of artistry makes me feel like I am in over my head. Not because I am not a proficient chef, but because when cooking, sometimes the elements look like they are going to win. Every so often they do. Just the other day my chicken got overcooked. First time in years. It was becasuse I was working in a new kitchen on new equipment and working with a different product than I had ever worked with before (not all chicken is created equal folks) But this is only once in a blue moon. The thing that is amazing is that when weilding fire, ice, hot oil, blades and malets, we can conquer. It has taken years of diligent self study, but it can be accomplished. The things that we all consider quite dangerous can be harnessed into making something astounding. Something beautiful to the taste, smell, touch, and sight (I am a bit of a misophoniac so the sound of eating inspires a very different sentiment in me... and poor Joe's as well, because, thru no fault of his own, he almost is strangled everytime he eats) 
But you know what I love about the seemingly rough day I described above? By 10 AM today, I was off for the entire day and could spend it with that happy kiddo and my wonderful partner-in-crime. That hard work of yesterday created a stress-free event for all. It was beautiful, there was bagels and cream cheese infused with pineapple, sundried tomatoes and roasted garlic/chive, a huge fruit platter, granola, greek and flavored yogurts, cinnamon rolls and 3 kinds of freshly made gluten free pastries, including blueberry muffins that were quite addicting. ...not to mention the Organic Orange Juice...
... It was magical.
Which brings me to my main point... Liz Lemon was right... you CAN have it all!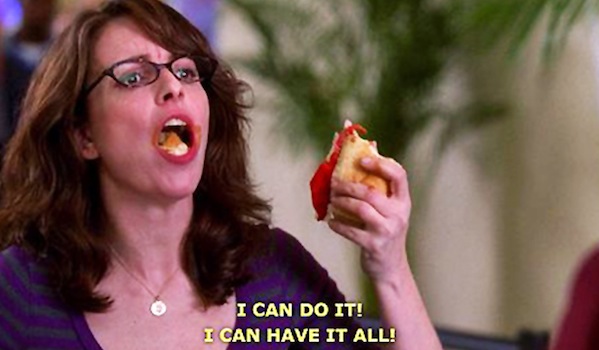 Today I took the time to watch "Fat, Sick and Nearly Dead 2". I have to say that as a culinary professional I was inspired.
For those of you who don't know this film is the sequel to "Fat, Sick and Nearly Dead" which discusses the benefits of juice fasting. The thing that I loved about #2 was that it did not focus so much on juice fasting as a lifestyle, but rather on how it is actually possible to maintain our health throughout the years following a "diet". So many people (including myself) have participated in "diets" but then end up right back where they started a year later because of the lack of sustainability. 
The reason this notion of sustainable health is compelling to me as a chef is that the culinary world is such a big part of the problem. I am guilty of it myself... serve conventional (cheaper, non-organic) products while using salt, sugar or fat to make a meal taste or look better, and never deliver more than your salad raw. It is the basics of food presentation and cost management. Toss the "steamed" veggies and pasta in canola or light olive oil so they don't dry out and help compensate for their natural bland-ness. Use heavy cream in your quiche batter so it is the consistancy of butter. Use salt liberally on everything you touch so that ALL of those masked flavors due to poorly grown products are available to the palate. Cook everything so that your artisry and tecnique are displayed to their fullest extent. And don't you dare make a BBQ sauce, salad dressing, or baked bean without sugar.
Now, I truely do not believe that food traditions and restraunt style food are the Devil. I love the taste of these gorgeous meals. Really, I would so much rather have my food salted to perfection and my chicken brined every single time, not to mention bacon on EVERYTHING(#somuchsodium). But we can't eat this way every day. We NEED raw fruits and veggies. I know raw kale doesn't usually sound like anybodies cup of tea (and really who wants tea when you can have coffee, am I right?). But we need that kale, that butter lettuce, that apple. We need more apple cider vinegar and less iodinized salt. We need more water and less processed orange juice. 
This idea of health has been close to my heart for a long time now and I am by no means an expert. In fact, I just reached out recenty to a Nutritional Therapist because of a general feeling of unwellness due to years of a very high stress load. So, what I write on this blog is not a perscription or a road to health. It is simply an outlet for being able to think clearer about food, and to attempt to be a part of the change that the food service industry so desperately needs.